Today we have to take C. back to the Dr. today. I took her in yesterday, they ordered blood-work (which she really didn't like), but they needed to rule out if it was Mono .... results came back today and it was negative for that - soooooooooo, now we go back again today and they start ruling out other things that it might be.
Wednesday we went to the Year-End Picnic with our Homeschool group - this group started out as an online support group for homeschoolers in our area .... we started getting together once a week and made a lot of fantastic friendships by doing that. It was a beautiful day to get together .... it was at a playground type park that has fire pits, so we had a wiener roast, the kids played with each other, the Mom's visited & had coffee - it was an almost perfect day. I say "almost" because one of the members (and a good friend of mine) of our group wasn't there .... she had to take her husband in to the hospital because he was experiencing chest pain (on the right side). Fortunately, one of the Mom's, from our group, was able to bring the kids with her - soooooo, even though there was a lot of laughter, sharing and support going on ..... the whole time, many silent prayers were being said for this family.
A couple of entries ago, I had posted about a blanket that I was weaving - well, I got it finished and it turned out fantastic .... it was originally supposed to be crib-size, but the lady teaching me, told me to use up either all the warp or all my yarn for the weft. When I ran out of the green, the blanket was only 30" long, so I went and bought more yarn and made it longer.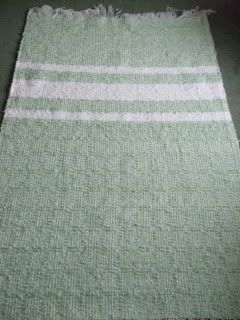 This was the first time that I had ever used a floor loom - it has foot pedals to raise and lower the 4 heddles on it ..... oh, yes, and I went from using my little (20") rigid heddle loom to using a 42" floor loom for this - talk about culture shock, lol.