Anyone else finding it disturbing that they have to have their furnace turned on????? It is getting down-right chilly out there .... the rain probably doesn't help to much - oh, well, guess that means I get to stay inside and work on my handcrafts while sipping on homemade French Vanilla Cappuccino, lol.
Last Friday we went and checked out a Motorhome that was for sale ..... I have been wanting a Motorhome for a very, very long time - they just make so much sense to me. ˚Ü˚ Anyway, we decided that we would make an appointment with the bank and try and get it - great news, last night we went and picked up our new-to-us Motorhome. ˚Ü˚
Here is the site you see to the right of the door. The backrest of the passenger seat flips over to become the backrest when you want to use the table. The driver seat swivels around so that it can be used as extra seating in the Motorhome.




Here we see the three burner stove and oven, double sink, microwave (which will be taken out) and the door on the left side of the picture is the bathroom door (the bathroom has a toilet, sink and shower stall in it).




Here we are looking down the hallway to the 'bedroom' area .... oh, the cream coloured spot on the lower left of the picture is the other bench seat for the table. The door and stairwell is behind this seat. The couch at the back makes down into a double bed and there is a bunk that folds down above it (Charlotte will be sleeping there and Josh will get the table bed). We're going to leave the back beds folded down .... they won't be in the way of anything and this way we'll have a bedroom area. ˚Ü˚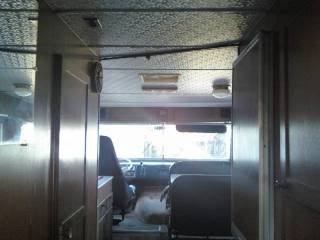 Looking from the bedroom area - there is a closet on the right side of the picture, next to it is the fridge (it's much bigger than the fridge in our last camper trailer). Across from the fridge is the bathroom. ˚Ü˚