Wow, what an interesting last couple of days .... we, finally, have both kids up and running with their online accounts for school. Talk about a learning curve .... some of the assignments that they need to do for orientation are really making me think. This isn't a bad thing .... it's just that we have a Mac computer and the instructions are for a PC, soooooooo, I need to read the instructions (on some of the assignments) and figure out what it is that they want the kids to do and then figure out how to accomplish that on our Mac - good thing we never stop learning, right, lol.
On the handcrafting front - I've been working on making numerous pairs of furry felted mittens .... a while back I had seen a picture of a blue pair and they really reminded me of Cookie Monster's hands, lol. I decided that I wanted to try making a pair and promptly set to work doing it ...... 14 pairs later, I think I might actually get a pair for myself (all the others have been sold). Here's a picture of the very first pair that I made: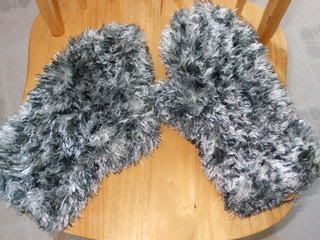 I'm wearing this one and trying to take a picture of it at the same time ..... not the easiest to do, lol.


The neat thing about these mittens is that when the wool felts, it shrinks up and gets smaller .... the 'fur' doesn't, but it gets really dense because the wool pulls it in close when it shrinks. These are extremely warm mittens - perfect for when we hit those -30's, lol.
Last night, for supper, we had breakfast ..... I cooked up some more of those Pop Up Pancakes and cooked some turkey breakfast sausages - it was all sooooooooo good, and, I've discovered that I really like the turkey sausages .... they aren't as greasy as the regular sausages. ˚Ü˚